LA CityView 35 is the City of Los Angeles' government access television media station accessible through basic cable services in the City of Los Angeles, online and through various social media platforms.
It all began in 1989 when the City of LA, under the direction of City Council, launched its first-ever 24-hour cable television channel then called, "CouncilVision."  Later renamed LA CityView 35, the City's media division has been producing and broadcasting globally recognized government and educational programming for over three decades.  
Unique in our content since inception, LA CityView 35 has covered events and milestones within the landscape of our city with an insider's perspective.  From airing weekly City Council and Commission meetings, to the first-ever LA Marathon, our studio and field crews have been on the frontlines covering the most important stories of our time including Papal visits, the World Cup, World Series wins, the birth of new city landmarks, and historical construction projects such as LA Metro and the 6th Street Bridge.  LA CityView 35 has been sharing vital stories on the city's civil unrest, devastating fires, floods, scientific achievements and entertainment, while continuing to be anchored by its 20-year signature weekly informational series LA This Week.  
Serving the administrations of six iconic Mayors and almost seventy Councilmembers, our content brings transparency, vital resources, and local government access to Angelenos and beyond.  Focusing on the needs of the public while informing local and national media, the presence of LA CityView 35 culminated in the unprecedented year of 2020, bringing industry-wide recognized contributions in television and digital media in the battle against the COVID-19 pandemic.
Starting with former Mayor Eric Garcetti's unprecedented "Safer at Home" order on March 19, 2020, LA CityView 35 quickly became the sole portal and an integral, key component of the city's responsibility and commitment in keeping LA residents educated on pandemic related matters from ever-changing statistics to necessary guidelines to help manage and slow the spread.
That effort was honored in 2021 when the channel won the prestigious 73rd Los Angeles Area Emmys Governors Award.  The award is given to an individual, company or organization that has made an outstanding, innovative and visionary achievement in the arts, sciences or management of television as well as a substantial contribution to the greater Los Angeles area.
The work and innovation doesn't stop here.  Now under the new leadership of Mayor Karen Bass, LA CityView 35 will continue breaking barriers in broadcast standards while remaining the trusted public source of information for residents as the City of Los Angeles moves forward with hosting major worldwide events like the 2026 FIFA World Cup and 2028 Olympics.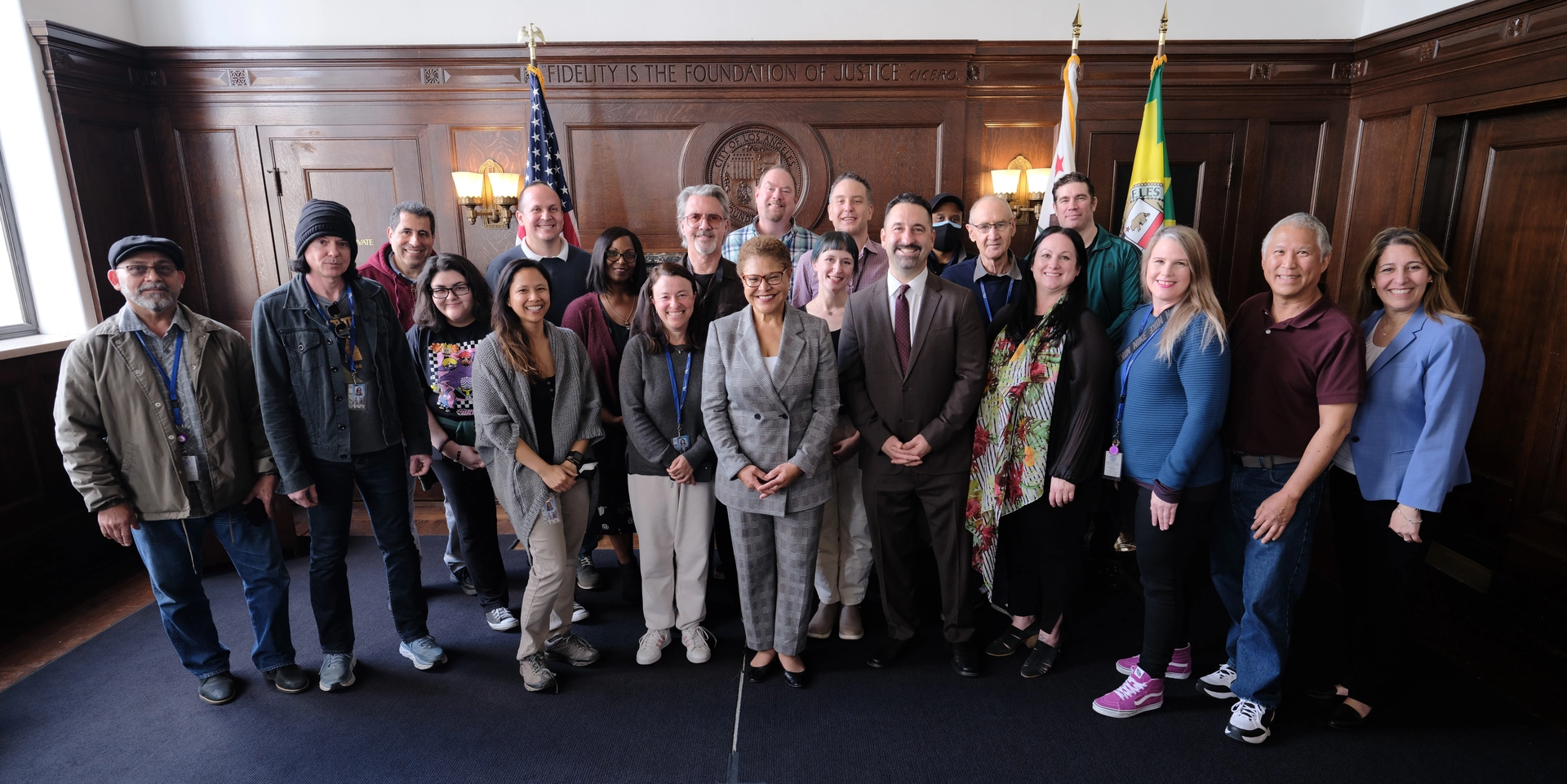 LA CityView 35 Media Group
200 North Spring Street, 10th floor, Room 1000
Los Angeles, CA 90012
Email: ita.channel35@lacity.org
Phone: 213-473-9798